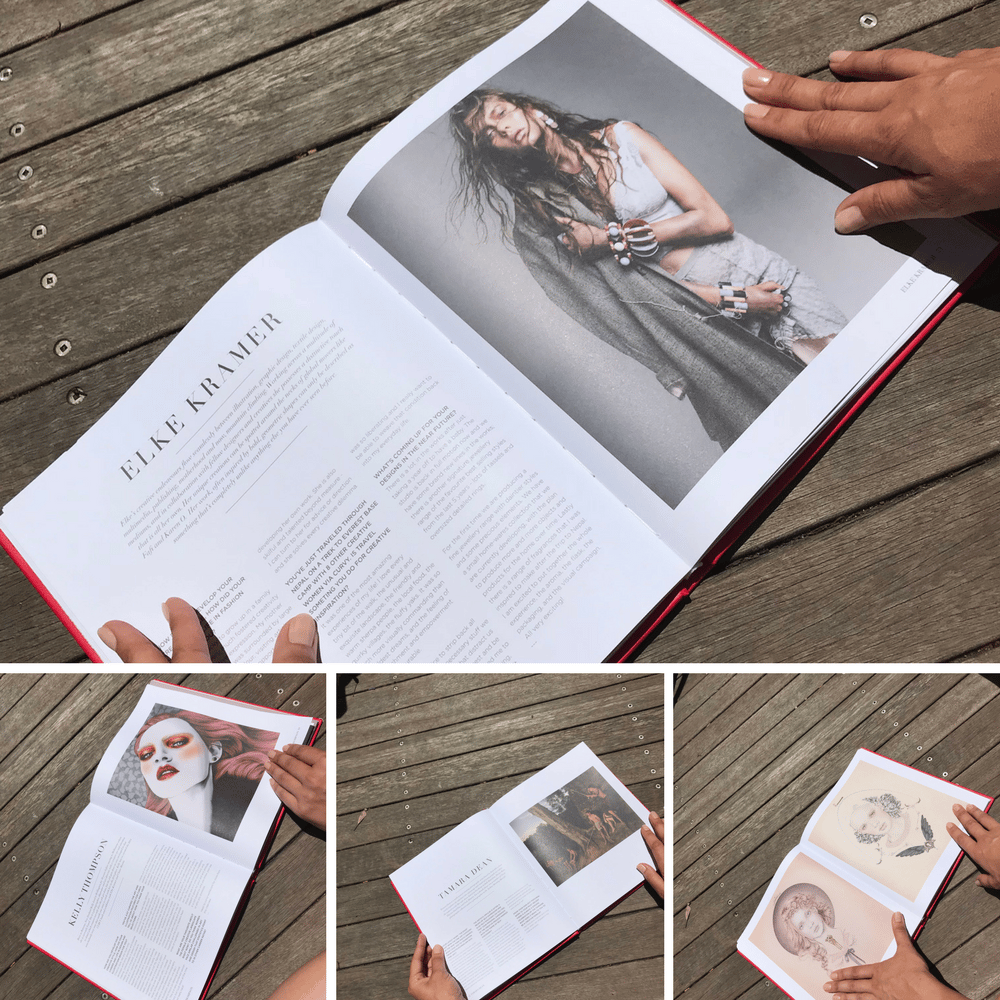 CURVY 9 - OUT NOW
CURVY 9 is an inspiring book that features the most exciting female creative talent across art & illustration, fashion and photography.
**Less than 100 copies left. Issues 1-8 have sold out.
Created by the CURVY team together with special-guest curators, Kelly Thompson, Elke Kramer and Claire Martin - this beautifully designed book is filled with hand-picked images and interviews that will inspire anyone that wants to up the ante in their own creative pursuits, as well as those who like looking at amazing work. And of course, CURVY is the source for anyone who wants to be up to date with the world's latest boundary-breaking female image makers.
To date CURVY has showcased close to 900 female artists from over 40 countries and has received more than 10,000 submissions.
CURVY is the perfect gift for creative friends.
CURVY continues to be a fresh feast of more than seventy young female artists from 40 different countries worldwide. Women from major design capitals are represented, including Paris, London, LA, NYC, Melbourne, Toronto and Tokyo – and from countries as far afield as Ecuador, Mexico, Moscow, Serbia, Brazil, Indonesia, Norway, Malta and Israel among many others.
These women again demonstrate why there are so many exciting reasons to continue to champion them. We hope you enjoy this book as much as we enjoyed putting it together.
Artist Listing
Anna Hammer / Anne Higgie / Anneli Olander Berglund / Autumn Whitehurst / Bec Winnel / Claire Martin / Claudine Doury / Desert Designs / Diane Irby / Edwina White / Eirian Chapman / Elke Kramer / Elodie / Emi Ueoka / INDEX / Emma Leonard / Gemma O'Brien / Georgina Ross / Georgia Perry / Greedy Hen / Hayley O'Connor / Henrietta Harris / I And the Others / Iveta Vaivode / Julie Fordham / Kaethe Butcher / Kaff-eine + Lucy Lucy / Kate Banazi / Katie Johnson / Kelly Thompson / Kelly-Ann Denton / Kirbee Lawler / Laurissa Onato / Lee Grant / Lillian Choo / Linda Linko / Lucinda Wolber / Marcela Bolivar / Maria Rozalia Finna / Maricor Maricar / Martine Johanna / Megan Frauenhoffer / Mel Stringer / Neryl Walker / Nicole Tattersall / Phoebe Johnson / Polina Kniazeva / Rebecca Hayes / Romina Quiros / Satu Maaranen / Seabastion Toast / Stacia Hadiutomo / Tamara Dean / Tamara Voninski / Tiffany Rysdale / Youngwon Kim / Zanzan /
FORMAT: 144 pages. 260mm x 210mm. Hard Cover.
Featured images: Elke Kramer, Kelly Thompson, Emma Leonard, Tamara Dean.
**CURVY 1,2,3,4,5,6,7 & 8 have sold out.